Golden Goat Pawn Shops in the Richmond Area
Golden Goat Pawn Shops in Richmond Virginia is your number one choice for buying, selling and trading items of value in Central Virginia. With 3 locations in the Richmond area, there's a location near you with a helpful, friendly staff waiting to serve you.

Golden Goat is not your typical pawn shop. Hands down, we pay TOP DOLLAR for your precious goods, and we are committed to our record of GREAT customer service. We buy, sell, and trade everything from jewelry to tools to electronics. If you need it, we either have it already or can find it for YOU! Contact Golden Goat to put your name on our wish list!

Why pay retail prices? Whether buying, selling or trading, you are sure to get a great deal from Golden Goat. Come in to one of our pawn shop locations in the Richmond area near you and find your own great deal on new and used items right in our shop.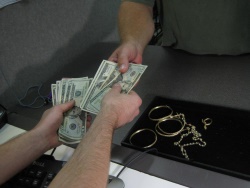 ITEMS WE BUY / SELL:
Jewelry
Gold, Silver & Platinum
Unique Antiques
Coins & Collectibles
Top-of-the-line Tools
Hot New Electronics
Silverware Sets
Oddities